Dental Crowns in Cambridge, ON
Dental crowns are made of strong material in order to reinforce natural tooth structure and restore the natural shape and size of each tooth. The most common material used to make crowns is porcelain because the colour closely resembles the shade of natural teeth. Crowns are sometimes called "caps" because they sit over top of the natural tooth and are stabilized by the tooth roots. Our dental professionals often recommend dental crowns to restore teeth after a root canal procedure, for cosmetic purposes, or to strengthen or enhance the teeth in various ways.
When Is a Crown Necessary?
A dental crown is needed whenever a natural tooth needs structural support. Crowns are often recommended because they allow us to maintain the natural tooth and root structure while providing a more stabilized bite and a uniform and beautiful tooth restoration. If a tooth is cracked or broken and cannot be fixed with a filling but are not unhealthy enough to warrant extraction, our dentists  in cambridge may recommend installing a crown.
"*" indicates required fields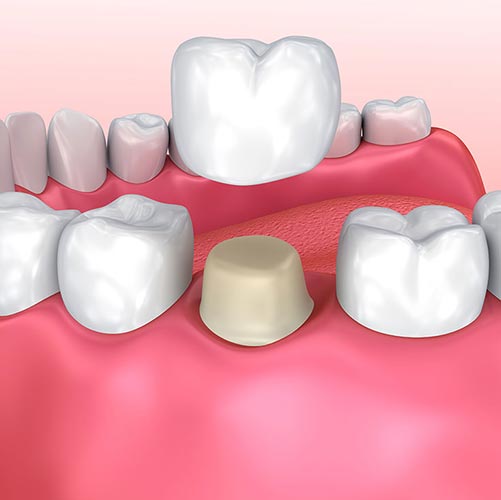 Dental crowns require more than one appointment because they are custom-made for your teeth. In your first appointment, our dental team will take an impression of the tooth where the crown will be placed. Your impression is then sent to a dental laboratory where they manufacture the crown. After preparing the tooth for the crown by removing some of the outer structure, our experienced dental professionals will fit you with a temporary one, allowing you to eat normally until your permanent crown has been constructed. When the permanent crown is ready, we'll book your next appointment to remove the temporary one and install the custom-fitted one.
When Was Your Last Visit?
Book Your Dental Appointment Today