Dental Bridges in Cambridge, ON
Fixed Dental Bridges Near You
Fixed dental bridges offer patients a beautiful and affordable restoration that can bridge the gaps in their smiles. We will often recommend bridges for patients with mild to moderate tooth loss due to injuries, infections, or tooth decay. They are a common choice for patients looking for a cost-effective, beautiful, and functional restoration.
Creating a Seamless Smile
Each dental bridge we create is custom designed for a patient, ensuring that the restoration blends perfectly with the rest of the mouth and restores an even bite. Bridges consist of a pontic (artificial tooth) anchored to "abutment teeth" on either side of the missing tooth or teeth. Although they are often very durable and resilient, a fixed dental bridge may need to be replaced over time with typical wear and tear.
"*" indicates required fields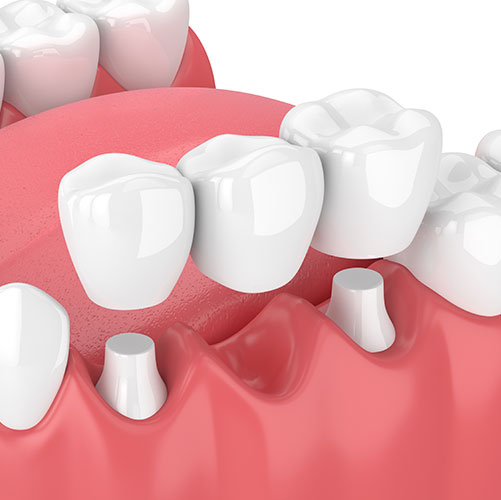 How We Fill in the Gaps in Your Teeth
Dental bridges can be constructed in several ways, ensuring that you get a great fit and a secure restoration no matter what state the surrounding teeth are in. Our dentists are able to anchor your bridge to abutment teeth that are natural teeth, natural teeth with crowns, or dental implants. This gives us a great deal of flexibility, ensuring you receive a solution that is secure, beautiful, and cost-effective.
Bridges are most often crafted from porcelain or porcelain fused to metal; the former offers a complete match to the surrounding teeth while the latter may reveal slight lines of silver. Our dentists in cambridge can help you choose the style and material for your bridge based on your specific needs.
When Was Your Last Visit?
Book Your Dental Appointment Today